Hi, Patrick here! Welcome to this week's newsletter from Remixing Work.
Remixing Work is for the entrepreneurs, executives and educators shaping the future of work and education
First, thank you to everyone who shared the last edition and a special welcome to our new readers--we've grown another 25% over last week.
If someone forwarded this to you, you can subscribe here.
I'm working on adding comments to the web site, and they should be up sometime next week. But in the meantime it's always great to hear what you think!
---
More than one-third of Americans would look to change careers if they lost their job due to COVID-19, according to recent polling (see below). A similar proportion of Americans believe they would need more education to replace a lost job. COVID-19 may be the immediate cause of job losses in these cases, but the need for many Americans to switch careers or get more education to stay competitive in the workforce is not new or specific to the current crisis. Employers and talent consultants have also been highlighting the "skills gap" for years.
"If I lost my job, I would look to change careers"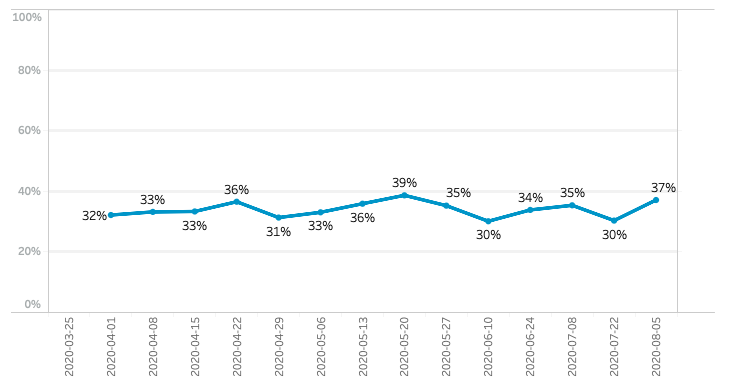 Source: Strada Education
"If I lost my job, I believe I would need more education to replace it"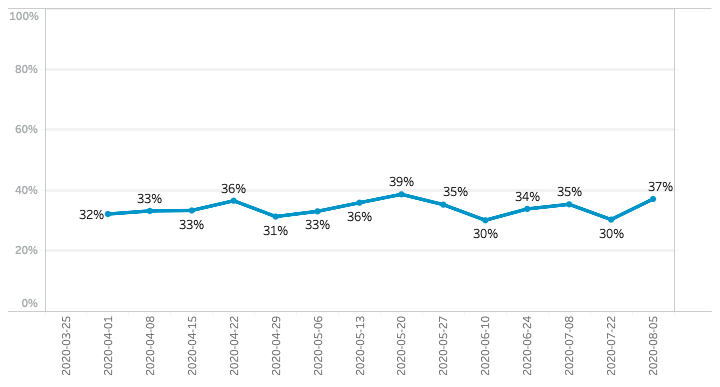 Source: Strada Education
(Note: There is likely overlap between the respondents answering yes to both questions but that data is not available).
Unfortunately, even in good times, the labor market is not easy for career switchers to navigate. Moreover, traditional higher education offerings have a mixed record putting adult learners into better jobs.
However, there are promising innovators that can help address the immediate jobs crisis related to the pandemic and the longer-term skills gap:
1️⃣  Employers rethinking how they help workers reskill and upskill
2️⃣  New adult education providers focused on career switchers
3️⃣  New approaches to outplacement and career navigation
The innovators
1️⃣  Employer-led reskilling & upskilling
Upskilling and reskilling programs are primarily designed to fulfill an employer's future demand for higher skilled jobs by training for some of its existing employees for new skills. This can help address gaps in high-demand, high skills jobs that are more and more expensive to fill for employers. It also helps provide more pathways for employees at companies with large unskilled workforces but limited advancement opportunities and at companies that anticipate reductions in the future (e.g., due to automation).
Corporate learning & development initiatives have always addressed these needs to a limited extent, but the growing skills gap brought increased attention to this before the pandemic.
One set of companies is trying to make employee's skills more legible and then make it easier to match them with relevant potential future roles along with appropriate training. Degreed is a notable startup in the space. It's customers are mainly large corporates, such as Unilever, Cisco, AthenaHealth, AirBnb, Boeing, Ericsson and Booking.com (all were reported customers as of June 2019). Degreed catalogs the existing skills of employees, helps them identify roles that could be suitable for the future and matches them with training resources to gain those skills. To recognize these skills, Degreed offers more than 1,5000 certificates and credentials. Founded in 2012, Degreed has raised $182M, including a recent round of $32M in June.
Other education providers are also focusing on upskilling corporate employees. MOOC providers Coursera and Udacity launched as consumer-focused learning platforms, but have been focused on growing the increasing share of revenue they get from enterprise customers.
Guild Education is one of the fastest growing education startups and partly plays in this space. They help large employers offer "education as a benefit" for their employees. This is an evolution of the tuition assistance programs that companies have offered for decades. Guild's core customers (companies like Wal-Mart and Chipotle) are large employers in high-turnover industries. By offering free or subsidized degree programs at Guild's partner colleges and universities, they are able to significantly improve employee retention.  This model has tremendous promise for helping employees complete or gain new degrees with little cost to them.
2️⃣  New career-focused adult education providers
Newer online education providers are also catering specifically to career-switchers by emphasizing job placement in their program design and in the financing they offer students.  
Lambda School offers 9-month and 18-month programs in web development and data science, Lambda is a pioneer in the use of income-share agreements in which students are only responsible for paying back their tuition after they have a job in their field of study paying at least $50K in salary. As I've noted previously, these funding models align school and student incentives much more than traditional college financing, including for Lambda to put a heavy focus on job placement for graduates. Founded in 2016, Lambda told EdSurge it has ~3,000 students enrolled and has raised $122M including $74M in August
Other online education startups offer career-switching focused programs in similar fields, as well as in web & app design, sales and more. Most also have a strong career placement focus. Many also offer ISAs or provide some kind of tuition reimbursement guarantee.
3️⃣  Better navigation
Software like Degreed helps companies manage career paths within their companies. Career-switching employees also need tools to help them navigate the labor market beyond their employer.
Career Karma is a promising navigation offering that helps people transition to jobs in technology. Its app and community of peers and mentors helps career switchers decide if what type of role in technology would be a good fit for them and then matches them with a bootcamp program. It's free for students--Credit Karma gets a placement fee for the bootcamps it partners with. That revenue model leaves some room for misaligned incentives between Credit Karma and students, but the program gets great reviews and works with a wide-range of top bootcamps (so it's not just steering students to a small number of partners). The biggest limitation to the model for now is that it's focused on a set of specific tech roles. The Career Karma web site provides advice on a broader set of career options but is not designed to pair students with education in those areas at this time (or help them navigate those careers in the same way).
Boost by Kaplan is a new career navigation program for high school graduates. Targeted especially at students taking a gap year before college and just in the process of being launched, it aims to give students exposure to professional work experience and a range of careers before they start college. The marketing copy nods to the idea that students may want to skip college completely after the program and go straight into a promising job (but it's not explicit on that point). Even if most students do go to college anyway after a gap year, they will be in a much better position to make decisions throughout college that prepare them for the workforce having gotten more early exposure.
Two employer-led initiatives also merit note here in the context of navigation:
Guild (discussed above) has launched a new service called Next Chapter that is reinventing outplacement services for large companies that are laying off workers during the current pandemic. Called Next Chapter, it aims to pair laid-off workers with relevant education as part of their outplacement benefits and also connect them with relevant roles at companies in its employer partner network that hiring. This isn't entirely employee-centered (given the focus on Guild's employer and academic partners) but it still may be a big improvement for workers versus traditional outplacement, especially in a time of crisis.
Amazon has a major workforce development program that aims to train workers for higher skilled jobs at Amazon but also for higher skilled jobs outside of Amazon. It's designed with outside jobs in mind because Amazon's warehouses have far more entry-level jobs than higher-skilled jobs. Like other employer education programs, it likely has significant retention benefits for Amazon. But what distinguishes it and merits mentioning here is the strategic (albeit mildly paternalistic) selection of education offerings it offers. Specifically, it only includes programs focused on skills that it expects will be in high-demand in the local region and that pay more than Amazon's $15 per hour minimum wage. By filtering it's offering in this way, it automatically provides a kind of navigation service to its employees.
The outlook
Even before the pandemic, the skills gap indicated a strong need for training, education and navigation solutions to help workers and employers adapt. Between the job losses and accelerated economic change caused by the pandemic, the need for these solutions is even more urgent.
Each of these areas offers the potential to create substantial opportunity for workers and to build big businesses. However that opportunity looks quite different by area:
Career & education navigation: The potential value unlocked by better career and education navigation is tremendous. But the feedback cycle to prove their effectiveness is incredibly long, and they may create the most value during life stages that it is more difficult to monetize (for instance, before or during college). But programs like Career Karma that target a shorter time horizon and are attached to a purchase (either education purchase or job placement) offer a promising path to adoption.
Targeted adult-education: Targeted vocational programs that serve job switchers well will have the most long-term opportunity. If they not only help career switchers successfully switch but also turbocharge those new careers, they have a clear path to sharing in that value creation. Their biggest challenges are the many forces working in favor of higher ed incumbents and the relatively long feedback cycle involved in proving their effectiveness.
Corporate reskilling & upskilling: The typical examples make these sound like no brainers for employers, and good for employees and society, too. In practice, they require an unlikely confluence of factors to be a slam dunk for employers. Nevertheless, corporate learning & development is a very large market ($169B in North America), so there is plenty of room for providers targeting this with a reskilling or upskilling focus to be large businesse, too.
Until next week!